St. Nektarios Sunday School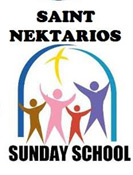 Our goal is to provide a Christ-centered environment and standardized program of Orthodox instruction for your child. Our weekly lessons follows a curriculum of materials and resources from the Greek Orthodox Department of Religious Education. We take scripture, history, tradition and liturgical life and to combine them in such a way as to help your child understand our Orthodox Faith better and to help them come to know Jesus Christ and His Holy Church.
The student is taught that the Bible is a way of life, and that the Church helps to prepare them for their personal and social life as a member of Christ's Church. The Bible, our Church and faith in Jesus Christ are not just lessons but they will help your child to find God's path and to stay on it throughout their entire life. Although these are very serious and deep concepts, we break them down and present them to your child at their age level of understanding.
What you can do to help?
We would like to invite you to bring your child every Sunday.  Encourage your child to tell you about the lesson taught for that day and what they learned from it. Encourage your child to pray by attending all the Church services together as a family. Take Holy Communion as a family after proper preparation. Together, in these ways we can help Jesus Christ become the core and essence of your child's life.
The Bible, our Orthodox Church and faith in Jesus Christ are wonderful blessings. It is our hope that God will grant these blessings to all our Sunday School children to help them learn Jesus Christ's Word and the wonders of His love.
Sunday School Program:
Hi Parents,
"Χριστός Ανέστη"  "Christ is Risen!":
For forty days after His resurrection, Christ remained on earth, showing himself to the faithful and strengthening them in Faith. "He was seen by over five hundred brethren at once" (I Corinthians 15:6).  It is a testament that the same Apostles who feared for their lives and scattered during the Crucifixion became fearless of death after His resurrection and appearance to them.
Reminder: Our Sunday School classes begin at 10:30am in the Church with the Gospel reading and then we proceed to the classrooms for our lessons. We return upstairs in time for Holy Communion, the remaining liturgy and Fr. Elias' sermon.  The Feast Days and the Gospel readings listed in the lesson plans below are internet hyperlinks which can be clicked on to access the actual readings.
May 7th  Sunday of the Paralytic – English Divine Liturgy starts at 10:15 am
Gospel: John 5:1-15  Paralytic is Healed
Feast Day & Saints – John the Theologian (8th)
JK-SK:  5-5 pg 90 – Unit Review
1st -2nd:  5-1 pg 98 – Love Means Respecting Others
3rd – 6th:  5-5 pg 119 – Good Leaders Help our Church Grow
May 14th – Sunday of the Samaritan Woman – Mother's Day Brunch
Gospel: John 4:5-42  – Photine, the Samaritan Women (Feb. 26th)
Feast Day & Saints – Cyril and Methodius (11th)
JK-SK: 6-1 pg 92 – Happy to Share
1st -2nd:  5-3 pg 108 – Respect our Church Leaders
3rd – 6th:   pg 141- St Cyril & Methodius
May 21nd -  Sunday of the Blind Man
Gospel: John 9:1-38  – The Blind Man Sees
Feast Day & Saints – Constantine and Helen, Equal-to-the Apostles (21st )
JK-SK: 6-2 pg 96 – Happy to Tell the Truth
1st -2nd:  pg. 152 – St. Helen finds the Cross
3rd – 6th:  6-1 pg 128 – The Saints Helped the Church Grow
May 28th – Fathers of the 1st Council 
Gospel: John 17:1-13  – Christ's Prayer
Feast Day & Saints: Michael, Bp. Of Synnada  (23rd)
JK-SK: 6-3 pg 100 – Happy to Respect Differences
1st -2nd:  5-4 pg 112 – Our Church Respects the Saints
3rd – 6th:  6-2 pg 133 – The Church Grows by Helping Others
=====================================================
Text Books  for Lessons: SK. Happy with God, 1. Reaching for Jesus,  2 Loving God,  3. Sharing God's World,  4. Growing with God,  5 God Calls Us
Daily Bible Readings:   www.goarch.org/chapel
Orthodox Calendar for the Month:    www.goarch.org/chapel/calendar