St. Nektarios Sunday School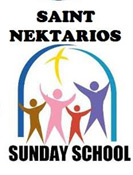 Our goal is to provide a Christ-centered environment and standardized program of Orthodox instruction for your child. Our weekly lessons follows a curriculum of materials and resources from the Greek Orthodox Department of Religious Education. We take scripture, history, tradition and liturgical life and to combine them in such a way as to help your child understand our Orthodox Faith better and to help them come to know Jesus Christ and His Holy Church.
The student is taught that the Bible is a way of life, and that the Church helps to prepare them for their personal and social life as a member of Christ's Church. The Bible, our Church and faith in Jesus Christ are not just lessons but they will help your child to find God's path and to stay on it throughout their entire life. Although these are very serious and deep concepts, we break them down and present them to your child at their age level of understanding.
What you can do to help?
We would like to invite you to bring your child every Sunday.  Encourage your child to tell you about the lesson taught for that day and what they learned from it. Encourage your child to pray by attending all the Church services together as a family. Take Holy Communion as a family after proper preparation. Together, in these ways we can help Jesus Christ become the core and essence of your child's life.
The Bible, our Orthodox Church and faith in Jesus Christ are wonderful blessings. It is our hope that God will grant these blessings to all our Sunday School children to help them learn Jesus Christ's Word and the wonders of His love.
Sunday School Program:  Scheduled for 10:30 am on Sundays during the months of October – May
Monthly Lesson Calendar
May you have a Blessed New Year!!  Ευλογημένο το νέο έτος.
Our January lessons begin with the Baptism of Jesus and Epiphany which means "appearance"… also known as Theophany which means "God's appearance". This is the first time that the Holy Trinity (Father, Son and Holy Spirit) appeared to mankind. The Holy Spirit appeared as a white dove while Our Father was heard to say "This is my Son in whom I am well pleased".
Did you know: St. Basil (born 330 A.D.) was the first Bishop to establish orphanages, hospitals and old age homes to help these unfortunate victims of society. It was during that time, the Philoptochos Ladies Society of our Church was first established by St. Basil with its missions of aid, assistance, charity, mercy and compassion for the sick and the needy. The annual observance of the Vasilopita originated from the Feast Day of St. Basil on January 1st and means the sweet bread of St. Basil.
Our Philoptochos will host their annual Vasilopita Luncheon and cutting of the Vasilopita following Church Service on January 7th.

Reminder: Sunday School classes begin at 10:30am in Church with the Gospel reading and then we proceed to the classrooms for our lessons. The children return for Holy Communion, the remaining liturgy and sermon.  Below are the January lesson plans including hyperlinks to the Feast Days and Gospel Readings.
January 2018 – Sunday School Lessons
January 7th  -  Vasilopita Luncheon
All Classes: Gospel Reading & Discussion – Baptist's Testimony to Christ:  John 1:29-34
All Classes: Feast Day & Saints – Holy Epiphany (6th) & Synaxis of John the Forerunner (7th)
JK-SK:  7-2 (p.114) – Happy on Epiphany, RFJ 19. Jesus is Baptized in the River Jordan
1st -2nd:  Book 3 (p.121) – We Share Holy Water
3rd – 6th:  4-2 (p. 85) – Children are Gifts from God (includes Birth and Life of John the Baptist) 
January 14th   
All Classes:  Gospel Reading & Discussion – Repentance & The Kingdom: Matthew 4:12-17
All Classes: Feast Day & Saints – Anthony the Great (17th)
JK-1st:  3-4 (p.50) – Know About Jesus, RFJ 20. Our Priest Baptizes Us in Jesus' Name
1st -2nd:  2-3 (p.34) – Marriage is the Sacrament of Love,
3rd – 6th:  2-4 – We Grow When We Obey God's Word   
January 21st  
All Classes: Gospel Reading & Discussion – Zacchaeus is Restored: Luke 19:1-10
All Classes: Feast Day & Saints – Timothy of the 70 (22nd)
JK-SK:  4-1 (p.56) – Love One Another,  RFJ 21. Jesus Heals the Blind Man
1st -2nd:  2-4 (p.40) – Icons Show our Love for God,
3rd – 6th:  5-1(107) – Others Helps Us Grow (includes St. Timothy Learns from Paul) 
January 28th 
All Classes: Gospel Reading & Discussion –  Publican and the Pharisee:  Luke 18:10-14
Feast Day & Saints – Three Hierarchs (30th) Basil the Great, Gregory (Theologan),  John Chrysostom
JK-SK:  4-2 (p.60) – Happy to Obey,
1st -2nd:  4-4 (p.88) The Church Serves People in Need, (p.92) St. Basil helped All People
3rd – 6th:  3-1 (p.52) – Prayer Brings Us Closer to God
=====================================================
Text Books  for Lessons: SK. Happy with God, 1. Reaching for Jesus,  2 Loving God,  3. Sharing God's World,  4. Growing with God,  5 God Calls Us
Daily Bible Readings:   www.goarch.org/chapel
Orthodox Calendar and Readings:  www.goarch.org/chapel/calendar