St. Nektarios Sunday School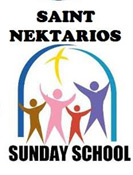 Our goal is to provide a Christ-centered environment and standardized program of Orthodox instruction for your child. Our weekly lessons follows a curriculum of materials and resources from the Greek Orthodox Department of Religious Education. We take scripture, history, tradition and liturgical life and to combine them in such a way as to help your child understand our Orthodox Faith better and to help them come to know Jesus Christ and His Holy Church.
The student is taught that the Bible is a way of life, and that the Church helps to prepare them for their personal and social life as a member of Christ's Church. The Bible, our Church and faith in Jesus Christ are not just lessons but they will help your child to find God's path and to stay on it throughout their entire life. Although these are very serious and deep concepts, we break them down and present them to your child at their age level of understanding.
What you can do to help?
We would like to invite you to bring your child every Sunday.  Encourage your child to tell you about the lesson taught for that day and what they learned from it. Encourage your child to pray by attending all the Church services together as a family. Take Holy Communion as a family after proper preparation. Together, in these ways we can help Jesus Christ become the core and essence of your child's life.
The Bible, our Orthodox Church and faith in Jesus Christ are wonderful blessings. It is our hope that God will grant these blessings to all our Sunday School children to help them learn Jesus Christ's Word and the wonders of His love.
Sunday School Program:  Scheduled for 10:30 am on Sundays during the months of October – May
Monthly Lesson Calendar
Parents,
Just a reminder, Sunday School classes begin at 10:30 am in Church with the Gospel reading and then we proceed to the classrooms for our lessons. We return upstairs in time for Holy Communion, the remaining liturgy and Fr. Demetre's sermon.  Below is the November lesson plan including the Feast Days and Gospel readings as internet hyperlinks which can be conveniently clicked on to access the actual readings.
Did You Know:
November 1st is dedicated to the Philoptochos Society on the feast day of the 2 brothers and Physicians – Unmercenaries Cosmas & Damian. They were known as Holy "Unmercenaries" for helping the poor and afflicted without any payment, which is why the Philoptochos decided to celebrate on this same day. Philoptochos is from the Greek words "philos" and "ptochos" which means "friend of the poor".
St. Nektarios the Patron saint of our Sunday School died in 1920 on the island of Aegina. Although many miracles were attributed to him year after year since his death, he was only recently proclaimed a Saint in 1961.  http://orthodoxwiki.org/Nectarios_of_Pentapolis
St. Chrysostom was famous for speaking eloquently thus his name "Golden-mouth" and was the author of more works (including our Sunday Divine Liturgy) than any other Church Father.
St. Katherine known for her beauty, but more importantly for her Christian intellect in defeating pagan philosophers in public debates.  Her holy relics are at the Monastery of St. Katherine (oldest continuously inhabited Christian monastery, 17 centuries old) at the foot of Mount Sinai.  http://www.sinaimonastery.com/index.php/en/
Sunday School Calendar – November 2017
November 5th
All Classes: Gospel: Luke 16:19-31 – The Rich Man and Lazarus
Feast Day & Saints – Nectarius the Wonderworker  (9th)
JK-SK: 1-4 p.14  Happy with God's Animals,
1st-2nd: 1-5 p.18  Jesus Wants Us to Love One Another, & St. Nektarios (lesson below)
3rd-6th: Bk.5 5-4 p.129 We are Called to Encourage Others (St. Nektarios)
November 12th
All Classes: Gospel: Luke 10:25-37 – Good Samaritan
Feast Day & Saints – John Chrysostom, Abp. Of Constantinople   (13th)
JK-SK: 2-1 p.20 Happy in Church & Reaching for Jesus – Receiving Holy Communion
1st-2nd:  p.86 The Good Samaritan
3rd-6th: 1-3 p.11 We Offer ourselves to God through gifts,  Parables Christ p.32 The Good Samaritan
November 19th
All Classes: Gospel: Luke 12:16-21  – Greed and Anxiety
Feast Day & Saints – Great Martyr Catherine  (25th)
JK-SK:  2-2 p.24 Happy to Pray & Reaching for Jesus – God Made Everything Part 1
1st-2nd: 2-1 p.24 God wants Parents to Love their Children, Bk 4 pg 117 St. Katherine
3rd-6th: 1-4 p.16 We Should live the Liturgy Every Day, pg 117 St. Katherine
November 26th – Youth Sunday – Sunday School may attend Church service if in English.
All Classes: Gospel: Luke 18:18-27  – The Rich Young Man
Feast Day & Saints – Apostle Andrew the 1st Called  (30th)
JK-SK:  2-3 p.28 Happy to Learn about God & Reaching for Jesus – God Made Everything Part 2
1st-2nd: 2-2 p.30 God wants Children to Love their Parents
3rd-6th: 2-1 p.26 The Bible is the Word of God,  pg 121 – St. Andrew Leads the Church
=====================================================
Text Books  for Lessons: SK. Happy with God, 1. Reaching for Jesus,  2 Loving God,  3. Sharing God's World,  4. Growing with God,  5 God Calls Us
Daily Bible Readings:   www.goarch.org/chapel
Orthodox Calendar and Readings:  www.goarch.org/chapel/calendar