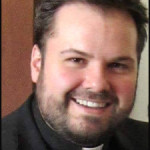 Rev. Fr. Demetrios George Mouselimis was born on December 17th 1979, in London, Ontario Canada. He is the third child and second son of George Andreas Mouselimis and Anastasia Demetriou Barkas. His parents, born in Tripoli, Greece, immigrated to Canada in the early 1970's and later married in 1975. Within the duration of the first six years his mother bore four children.
After majoring in Health Sciences in his post secondary education, Fr. Demetre decided after fervent prayer and contemplation that he would change his field of study and enter into Theology.
During his academic years at the Toronto Orthodox Theological Academy, he had the vast opportunity for both professional and personal development. Growing within his faith spiritually and expanding his knowledge of Orthodoxy as a seminarian, allowed him to experience the great sweetness in conjunction with the adversity brought by the Holy Priesthood.
After graduating from the Toronto Orthodox Theological Academy with a Bachelors Degree of Theology from the University de' Sherbrook, Montreal, Fr. Demetre enrolled back to the University of Western Ontario to further his studies and understanding of Theology. In the same academic year of 2005, he applied and was accepted to Teachers College for a dual Bachelors and Masters Degree of Education. Fr. Demetre was also honored that same year with the Helen Dreliozis Academic Award for achievement in academic and extracurricular experience from the Hellenic Society of the University of Western Ontario; as well as being one of the recipients for the Ontario Volunteer Service Awards presented by The Honorable Dalton McGuinty (Premier of Ontario) and The Honorable Mike Colle (Ontario Minister of Citizenship and Immigration). Following the successful completion of his academic year, Fr. Demetre was accepted to work full time at our Holy Metropolis in Toronto, Ontario as the assistant to the Head Registrar up until June 2006.
Two months after being married, Fr. Demetre at the age of 26, was ordained by His Eminence Metropolitan Sotirios, into the Holy Orders of Diaconate on November 03rd, 2006 at Holy Trinity Greek Orthodox Church in London, Ontario. After six short days serving as Deacon, Fr. Demetre was ordained into the Holy Priesthood at St. Demetrios Greek Orthodox Church of Sarnia. He served his first Divine Liturgy at St. Kosmas Greek Orthodox Monastery in Bolton, Ontario and served as second priest in London up until the end of the month.
December 1st, 2006, Fr. Demetre Mouselimis officially became the parish priest of St. Demetrios Greek Orthodox Church of Sarnia & Vicinity and served until 2013.  
In 2013, Fr. Demetre Mouselimis with his family moved to Kingston to serve the parish of Koimisis Tis Theotokou until August 2017.
Today, Fr. Demetre Mouselimis along with his wife Presbytera Elleni and their sons Georgios-Nektarios, Panayiotis-Gabriel and Anastasios-Nicholaos serve our London community with great Christian zeal and love.