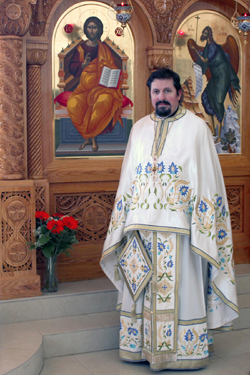 Fr. Elias Drossos was born in Montreal, Quebec on June 16, 1972 to Kostas Drossos and Charitomeni Tselembas, both from the Island of Kos, Greece. Fr. Elias is the youngest of three siblings. He has a twin sister, Maria and his older brother, Fr. Odisseys Drossos. In the summer of 1990, after graduating from Sir Winston Churchill highschool, Fr. Elias through the guidance of his spiritual father, Fr. George Saitanis, entered Hellenic College in Brookline, MA for undergraduate studies. In May of 1994 he graduated "With Distinction" receiving a Bachelor of Arts , minoring in religious studies. In the Fall of 1994, he entered Holy Cross Greek Orthodox School of Theology and in May of 1997, he graduated Holy Cross with a Masters of Divinity.
During his seven years at Holy Cross, Fr. Elias :
was a member of the Byzantine Choir, "Romanos o Melodos".
he served as Chanting Leader, Vice President of the Class of 97, and
was part of ACCESS Orthodox Ministries doing Action Line through the internet.
After graduating from Holy Cross in May of 1997, Fr. Elias accepted an invitation from His Eminence Metropolitan Archbishop Sotirios to become the English secretary at the Greek Orthodox Metropolis of Toronto (Canada), succeeding Fr. Stavros Moschos. While working at the Metropolis, he also served as an assistant cantor at Sts. Panteleimon, Anna & Paraskevi, Greek Orthodox Church in Markham. That same year he met Spiridoula Kallinteris, and were married the following year on September 6, 1998.
On October 17, 1998, Fr. Elias was ordained to the Holy Deaconate in his home parish of Annunciation of the Virgin Mary in Montreal, Quebec and, subsequently to the Holy Priesthood on November 3, 1998 at St. Nicholas Church in Scarborough, Ontario. On October 27, 2000, Fr. Elias and Presvytera Spiridoula became the proud parents of a healthy baby boy, Konstantinos Kosmas.  On February 26, 2010, Fr. Elias and Presvytera Spiridoula again became the proud parents of a healthy baby girl, Haritomeni Maria.
Following his ordination, Fr. Elias remained as the English secretary for Metropolitan Archbishop Sotirios and served at the following assignments:
Holy Monastery of Patrokosmas in Bolton, Ontario from November 1998 to September 1999;
St. John the Theologian Chapel in Toronto from September 1999 to October 2000; and
Annunciation of the Virgin Mary, Sts. Nectarios and Gerasimos Church in Oshawa, Ontario from October 2000 to October 2002.
Holy Trinity Greek Orthodox Community in London, Ontario from October 6, 2002 to present.
With the blessings of His Eminence Metropolitan Sotirios Fr. Elias was awarded the Ecclesiastical Offikion of "Economos" on Tuesday October 13th, 2009 by His Grace Bishop Christoforos.
For Economos Fr. Elias Drossos and his family, the historic city of London, also known as the "Forest City" has now become their home.
---
Holy Trinity Greek Orthodox Community of London & Vicinity
133 Southdale Road West
London, Ontario, N6J 2J2
Telephone: (519) 438-7951
Fax:               (519) 438-7951
Email:    londongreekcom@bellnet.ca
Fr. Elias: frelias@bellnet.ca