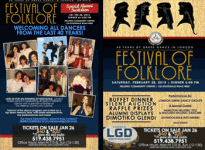 February 28, 2015 at 6:00pm
Location: Hellenic Community Centre | 133 Southdale Road
London Greek Dance of the Holy Trinity Greek Orthodox Community  is celebrating 40 years of Hellenic Dance in London with its first ever gala fundraiser "Festival of Folklore" will be a night of "kefi" with nonstop Greek dancing.  Buffet Dinner and Silent Auction, Raffle Prizes.  Tickets $40 and $20(11yrs and under).
Join us for an evening of nostalgia! Alumni of the dance program are invited on a trip down memory lane, with photo retrospectives, live performances and more! For more information, alumni may contact Maria Karidas at m.marakos@gmail.com
TICKETS on SALE January 26.  Call 519-438-7951 during Office Hours (Mon-Fri 1-3) or Sunday (12-1:30).  Reserved seating upon payment only.  Sold 300 tickets so far and selling fast!